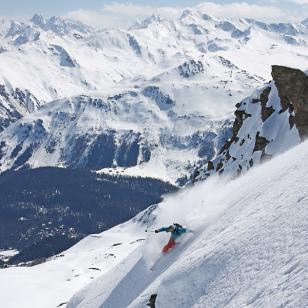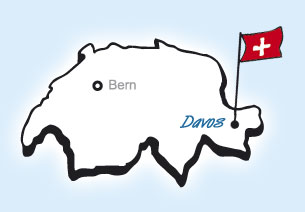 Incredible Davos
Five freeride resorts
Insert: 03.12.2012
Davos is a city located deep in the Swiss Alps. It is the highest located city in the Europe. Davos is full of luxury hotels, boutiques and his fame is at same level as of the near St. Moritz. Every year the World forum of Economics takes place in here. The main street is full of luxury stores which is not something for freeriders soul.

For the first time I came to Davos thanks to freeride camp at 2006. This camp was made by Kumestrol, Honza Kárník a Viktor Kořízek. We left Czech Republic that time and we had green meadows. When we reached Davos we had more than 80cm of new powder. But everything right on the rocks. Everybody know that this is nice riding but full of scars on the skis.


Davos is located about 660km from Prague and from Moravia it is more than thousand. So not really near resort. But already in those times I knew that this is freeride paradise. To the Davos resort belongs also a village called Klosters. The whole valley is composed by 5 resorts - at Davos it is Parsenn, Jakobshorn, Rinerhorn, Pischa and at the Klosters it is Madrisa.
I will introduce all those resorts to you in a numerous of articles during this winter season. Powderline crew spent a lot of time riding those resorts so I have something to tell.
Resort Parsenn
Parsenn is the largest resort which is located right above the Davos. Parsenn is connection Davos and village Klosters is considered to be a birthplace of skiing in Switzerland. 80 years ago the new train has been built to connect the Davos with Weissfluhjoch summit. The rails are still on the same way but the trains are much modern. In the middle station you can change to the older train or to six seat chairlift. Chair lift is fine if you had a bit tough party night. It is good to have a fresh air.

The Weissfluhjoch summit is at 2662 m above the sea and there is a big modern centre with restaurants, shops and ski rental. This is acting as a central point of Parsenn and all main ski lifts are leading here. A big gondola is starting in here and leads to another summit which is called Weissfluhgipfel at 2844 m above the sea. Here it is pure freeride paradise. The whole Parsenn is huuge and when you get a powder day you can ride even 3 days fresh lines near the lifts or just go and fine some more serious stuff out of boundaries. We will bring you more this during this season.

Resort Jakobshorn
Jakobshorn is another resort which accessible straight from Davos. It is starting right from train station where you can take a cabin. It is better to use a ski bus to get in here because driving around Davos is a bit tough and parking also expensive. The cabin will take you to the top of Jakobshorn - 2590 m. above the sea. There is a nice mountain hotel, panoramatic restaurant and shops. The location of Jakobshorn is very interesting because of very deep valleys around. You can have a big backcountry lines and take a ski bus from those valleys. Those are the best as the last line of the powder day.

Resort Rinerhorn
T
he resort is located right above the village called Glaris. But again you can easily get here by a ski bus or a train which is also for free. The train guard is not even asking you for a ticket when you are holding ski. The Rinerhorn is composed by 1 cabin lift and 5 lifts. Due to this there is not so many people and we have been there in times of heavy snowfall. The advantage is a forest there. We had a very foggy day but when you have a nice tree riding it does not matter. Only thing you have to be aware of are sledge tracks. Those tracks are reserved only for sledges and people are getting very angry when you ride inside. And of course watch out the protected areas from forest animals. If the forest guard will catch you there you can get 100CHF fine.

Resort Pischa
I have never been to this resort but I have information from my friend and another freeriders that this is a freeride resort but not a steep one. You can ride here some nice powder fields but most of the times are oriented to the South and a bit flat. So when the sun will show up this resort is running out of powder at the first time. You can find it on the way to Flüela pass which is leading to Austria. But it is closed during the winter time.

Resort Klosters Madrisa
Klosters is a luxury village right before the zigzag bands towards Davos. It is a favorite place to ski for King Charles. It is a bit more expensive destination but we are more interested in freeride resort Madrisa. Due to above mentioned reason it is not a favorite place for a crowd of skiers. We have never met a crowd in here and not talking about freeriders. I have met just a few of them in here. Madrisa has very ragged terrain and long lines. The resort is up to 2600 m above the sea and ends at very nice ridge. So it is possible to ride almost all directions and always get back to the near cabin.
Well this was a brief description of surroundings of DAVOS KLOSTERS MOUNTAINS which I can recommend as perfect freeride area. During this season I will introduce you above mentioned resorts one by one more in detail and show some nice line to ride.

Klikoš