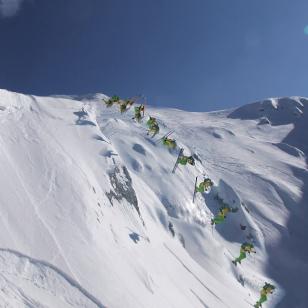 Sella Nevea
Insert: 12.10.2010
In Italy, we actually got quite by coincidence. The original plan was to go into Slovenian Bovce, where was freeride competition. Bovec was closed due to wind, so we went to the opposite side of the hill, the Sella Nevea. Both areas are connected and for one price you get ticket for two.
Trail 1
First, we focused on the lower part of the ski resort, because the upper half was due to strong wind closed. At the bottom, we found only one small area suitable for freeriding, you can see these area just from the cabin lift. It's just small place near the slopes, you will find here a few rocks and some steep places. This area begins just above the forest and ends in the woods, it is about 200 meters below the cabin lift. It doesn't worth it to visit these resort just because of these trail.
Trail 2
In the afternoon the weather was better and upper part of ski resort started operate. Up here leads big gondola, and you can see on the left side terrain which you can take on way down. It's about a mile long ridge of rock that lead to the gutters. On these ridge you get about fifty meters below the top gondola station. Top of the ridge is steeper and more rugged, end of the ridge is rather modest and the terrain is more rugged and less clear. There you can find a steep lanes with big drops, but the peaceful culoars. After arrival in the valley, you get the Two-seat chairlift , which will take you directly to the middle of the center of the gondola station. We were unlucky and got crusty snow and flat light.
Trail 3
This third route is probably the best what resort can offer. Start on these trail is the same as the trail 2, take gondola to the top. Even as descent begins the same. You can move to the crest, as the trail 2, and any distance from the ridge, turn right, then in the opposite direction than the route 2nd. Or turn right before the raid on the ridge. This ride is the longest of all. It is here enough opportunities to drop,pillows, rocks, everyone here finds what he wants. First, it seems that you're going to entirely different valley than is necessary, but after a while you move into the long corridors, which takes you back the slope, after which you go down to the lowest point of the ski center. This ride is the most time-consuming and definitely the best.
The entire ski resort you should take care in various large and deep holes into which it might be very unpleasant to fall. In close proximity to ski slopes are holes marked and fenced, but once zoom out a bit, so be careful not always go to see the hole, the smaller ones can be covered by fresh snow.
More info about the center can be found here: http://www.sellanevea.net/
Autor: Viktor
Attachment :
sella nevea

|