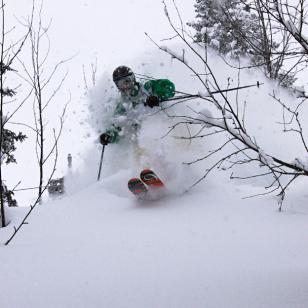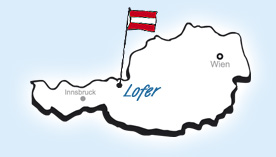 Lofer
When is no another place to go.
Insert: 05.12.2009
When in specific area of the Alps suppose to snow, it does not mean that it will be exactly in the are you have chosen. The snow can dumped

in another valley about 15 kilometers away and the situation is completely different. That is why our decision fell on Lofer. In this time when we decided to go there just dumped about 1 m of deep pow.
In this time when we decided to go there just dumped about 1 m of deep pow. Resort is located about 43 km southwest from Salzburg and about 36km from Kitzbuhel. Resort with its 1670 m is designed for the runs in the woods and during our visit there was not another choice. This resort is truly a family place in this submission it means that the freerider will have to traver over slight hill and when is a lot of snow like we hadm, the need of making walkways over the equivalent points is required. I will try to make a list with a few runs if you untruly get here. Actually I would not recommend this resort coz for the freeride there's only one T-bar lift.
Run No. 1 - This run is really interesting. You will get there by going from the upper lift station. If you exceed a certain level, you can not traverse and must drop about 5 m . This is really short run with one drop and you are pretty done. After droppig it travese to the ski slope.
Run No. 2 - Probably the longest runs in this area. In the upper part there is a flat are so If got a lot of snow like we had you would propably hike a little. In the upper part there are dorps different sizes. Interesting rocks and cliffs rather to make a photo. The lower part of this run is smooth but relatively steep . Both sides we be pulling you to T-bar lift so your feet will not rest.
Run No. 3 - Probably the taughest and most interesting part of Lofer. From the upper T-bar station go to the left along the spine about 150 meters until you reach huge steep part in frant of you looking like an abyss. Going down is not so easy coz this part is divided into individual thresholds. In one less steep section there is a rope between the trees. When we rode there we almost could not see it. Anyway when you reach it go immediately right and then you will have to drop couple of cliffs with not so good landings. Bihind the mentioned rope there is about 30 m drop to flet! So after those not so cool jumps continue down the valley with along avalanche barriers. I thing that this part of Lofer could be more researchech in the future.
At that moment with those conditions it was a nice ride but run 2 km you just can't find. Mostly your runs are about one lift over and over .
Mart
Attachment :
Lofer map PDF

|