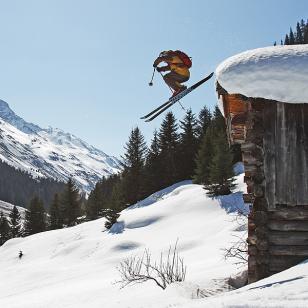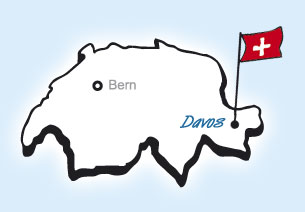 Davos Jakobshorn
Insert: 05.01.2013
Around the Jakobshorn mountain there is one from five resorts which belong to Davos area. This summit is laying at 2590m above the sea and it is located right on the South-West from Davos centre. There is a cable cabin which will take you up directly from train station. After this first gondola you will jump to another one which will take you to the top station.
Jakobshorn is the first resort I have ever been to in the Davos-Klosters area. Well I have to say that a lot of things have changed since my last visit. There are new lifts on a best freeride places. But the advantage of this resort is that you can ride to almost every valley around and there are bus stops. So you can simply jump on a bus a make another fresh powder turn.
Let´s have a look at the resort more in detail. As I have already mentioned the best and the steepest line are under the gondola or around chair lift called Bräma Jet. Not a long time ago here was a Tbar lift which was pretty steep but always without a powder because it is located on a windy side. Peaks Brämabüel (2492 m. n. m) and Jakobshorn are composing something like horseshoe and all the lines are ending in the middle station Jschalp. Possibilities are marked in the map no.1
The area around Jakobshorn is fairly wide. Basically it is a mountain massif between two valleys - Dischmatal on the East side and Sertigtal on the West side. There is numerous of lines which are leading to valleys. To the Sertigtal side are the lines a bit less steep and more often with melted snow. As they are Southly oriented. Most of the time you will end up near by the restaurant called Mühle. From there you can take a bus for about 2 CHF. The lines are covered on the map no.2.
The best freeride lines, longest and steepest are to another valley called Dichmatal to restaurant called Teufi. Thanks to the connection by the ridge between summits Jakobshorn and Jatzhorn (2682 m. n. m) you have the possibility to ride about 1000 meters of elevation. There lines for everybody. Steeps ones, powder fields or you can choose tree riding. What I recommend is to hike near the Jatzhorn summit (about 40mins hike). Then just send it down right to the steep couloirs. But if you are going to choose this line I have to warn you. A big problem are avalanches in this area. We have met some big ones past the years and especially in the bottom part of the forests there are traverses leading across the avalanches areas. So please be careful and If you see any higher tendency of temperatures or recent heavy snowfall just do not ride those lines. Lines are covered in the map no. 3
Well the conclusion is that Jakobshorn is not the best what Davos can offer. But you can be fairly sure that there will remain some fresh pow lines even 5 days after last snowfall. And the long lines to the valleys are absolutely amazing.
Author: Martin Klika
Attachment :
Map of Davos Jakobshorn

|