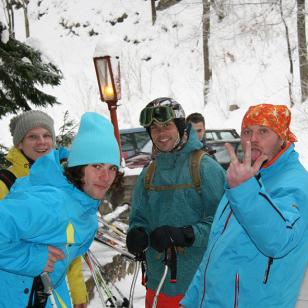 Vratna dolina presented by Viktor Galuska
..and how I spent this week at Vratna
Insert: 02.12.2010
In
recent

days

we

got a pretty good pow

,

so

we

decided to go

to

Slovakia

.

We set out

on Friday

,

and

since the

gondola does not operate during

weekdays

we went to Kozinec.

About

this

great

shredding you can find out more

in

the

article

from Komanc

.
On Saturday morning a whole bunch of riders met up at the bottom of Vratna ski terminal. We took the first runs along the gondola. There was not much of snow and every time I turned I manage to dig out a rock or a log from the tree stump. Another ride we hike up a little bit further in the direction of Kraviarske, where was whole different condition. There was a lot of snow thanks to a strong wind which blew all the snow into the trees. Even landing runs are just fine. Then we thought that we could take a picture of something, so we went into the "water" chute where I chose a rock which was entirely covered with icicles. Wlado had a new wide lens and it seemed that he can handle it pretty well. Just take a look on the pics. The run before the last run we all were looking for a lost ski, an incredible situation. Chute surrounded by cliffs. About twenty people were looking for it and when I thought to myself that I have enough of looking I suddenly felt in below my skies. After that we were just chilling in a small cottage called also Vratna, where we also spend the night in order to have next morning closer to the lift.
On Sunday morning we set up with David as one of the first in order to have run before others. On the spine was very high wind which was very strong and also there was some clouds. The very first ride we hiked to Kraviarsky. Just above the tree line there were some drops what we wanted to jump. I went first and choosing the bigger from two smaller drops which were there. Unfortunately the impact was not as soft as it seemed, rather there was a hard surface. After the impact I crashed and rolled right into some bushes. After a small inspection of my body I find out that the helmet broke completely and did not make it, but luckily better than if my head did not. The rest of the way down I blunder about as a butterfly and I expect myself to fall every second. After that incident I was inspected by ski petrol and I was told to visit a hospital immediately. Andreicka took me to the hospital in Zilina , where we spent about four hours, mainly waiting for X-ray, which I do not understand coz there was nobody in. On CT I did not want to wait, so I went on CT that day to Frydek, where they let me stay overnight and next morning sent me home. Luckily it was just a concussion. Finally, I would like to thank to Andrea who spent whole afternoon by visiting the doctors and she is so great, thanks. And for those who do not wear helmets. Try to review you riding coz an innocent jump or crash does not have to always result without any consequences.
Text: Viktor

For more photos, visit Wlado´s web side at:
3limits.sk