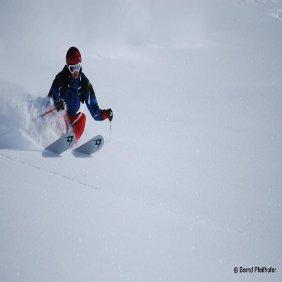 Old and new school
the old days will never come back
Insert: 13.01.2011
We received interesting article into our powderline redaction from freeride fans, who sent us really interesting material. With their e-mail they sent us few words and some interesting photos... Check it out!
Gone is the time when we stood a queue before Tuzex and we managed to buy skis for changed bons. Nobody cared, what type it is, how much have they under heel and how long they are. They were simply "Rosky" and I managed to get walking Markr to them. That was some special modofication of the classical Rotamatu, that allowed walking after switching. Skiapline binding was in those days still in it's beginnings. From the war veterans we managed to get the legendary "tiger" seal strips, the remnant for the Edelweiss unit. On such skis we were riding in moguls and powder and firn on Lysá hora and set off to our only big mountains, to Tatry and Fatry, those days still ours Slovakia. The idol od white slopes was Ingemar Stenmark and his curve with lifting the inner ski. It was time full of first-time-downhills, pads under stones, in snow burry, tents and night in sheds. We weren't looking for cableways, we rode hills, glens, walls, crossing hills and mountains.
Today we have stores full of slalom skis, big mounatain skis, powder skis from all world manufacturers. We have skis for children and also special for women. We have skis for carving, telemark, skiapls. On Lysá hora was skiing prohibited by "beskydy's greenpeace" and Tatry and Fatry aren't ours any more. We have bigger mounatins including the biggest mountain of EU. We sleep in huts, guest houses, hotels, caravans, and we ride by cableways and lifts. We have a lot of idols, as well as ski disciplines and ski slopes were captured by new style – carving.
And when you meet old and new school, so it is again and only about skiing. Skiing is still only one. Although on different skis with different binding and various ski schools, but the result is always the same. The joy of painting on a slope...
A couple of such paintings of old and new school, old and new skiers generation in our familly photogallery.
Autor: Bob " Buf " Damek
Foto: Bernd Pfeifhofer