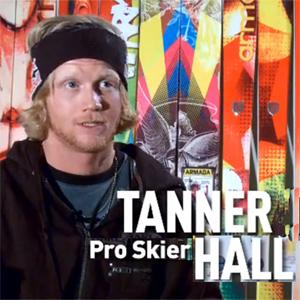 Like a Lion
The thru story of legendary skier Tanner Hall - movie review
Insert: 16.11.2010
Tanner Hall, born the 26th of October 1983 in Kalispell, Montana U.S. and has undergone many stages of his life. Many of you may think that the way of successful skiers is simple and say: "If I had conditions like he did I would ride the same. But not everything is how our media presents someone's else life to us. So I decided to write a short review or perhaps a feeling what I gained from this document.
The journey he´s been thru and is going thru at the moment was not and it´s not so easy. As a family lived in Montana where Tanner was so pensioned about skiing, the family decided to send Tanner to kid´s Olympic development coach in Park City, who will teach him moguls in order to support his goal. Later on a different guardian family Stegamayer Mark (1979 world champion in aerial skiing), took Tanner where Tanner felt like at home. Tanner's mother noticed that she is loosening her son and rented a condo in Park City, where he lived with friends. There he experienced a hard time like recording videotape a "porn" (apparently, only sex tape and it was not porn), organizing a party, alcohol, ganja, etc. Parents have lost their patience because once again he did not attend the school, was kicked out of moguls and was all in trouble again. In order to deal it Tanner set a 1 year ultimatum that he can win the competition as the U.S. Open and participate in the development of freestyle, and thus show and prove what he can do. He did it he fulfilled his ultimatum, and showed everyone what he can do and win the X Games. Tanner was enjoying being one of the best skier until the stem came in the form of breaking both ankles. Despite of skeptical prognoses of his injury he fully recovered and again dominated in the world of freeskiing. He won next X Games and made another video called Show & Prove in 2006. While shooting in Finland where Tanner was at the moment he learned about the accident whixh has happned to CR Johnson. CR was Tanner´s closest friend since the age of 14. CR has suffered a brain trauma injury to his head in the Brighton resort, Utah. After several weeks in a coma he awoke and Tanner was there. CR Johnson has fully recovered, even though he had to learn the literaly basics thing to survive (re-learning to eat, re-learing to drink, talk, walk) as a 3 years old child. After recovering, CR Johnson and Tanner made a movie called Believe in 2007. Everything went smooth, until Tanner broke both legs at the knees in 2009. Filmed with TGR at the end of the season when overjumped a kicker and landed on the table. Immediately after that fall Tanner said to himself, that this is end of his career for sure while suffered horrible pain.
Tanner did a great effort to get back on the scene of freesking as quickly as possible. While Tanner was undergoing recovery treatment he fell into depression where he was taking drugs, alcohol with combination of medicines he was using to cure. CR greatly helped him with his situation, but once things returned to normal, a tragic message the CR Johnson has passed away, Tanner totally crashed. CR was his closest friend who helped him throughout his life. Tanner again tried to escape it in his own way which was again alcohol and drugs, but eventually he made it thru. Perhaps because of the idea that CR would not be proud about it.
At the end of the movie Tanner said that his legs are not in 100% condition, but hopes it will come back but it will take a little longer than planned.
Well, I just wanted to share this document with you coz it inspired me a lot and that is why I wrote this little tiny review in order to pass on the impression which has retained in me. This article is only a fraction of what you will see in the film. Highly recommended.
Tanner Hall, set his goal to be a professional skiers when he was a boy of 9th. His mother, Darla Hall, supported him and said: "If you can make a living on thing you love to do you for it."
Trailer: Like a Lion
Text: David Knybel