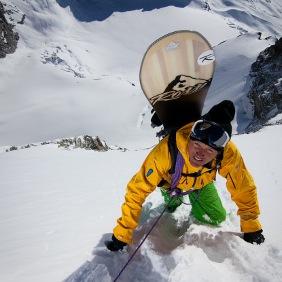 Xavier de le Rue
snowboards madness
Insert: 07.05.2011
After smaller interview pause we are bringing you another interview with a famous freerider. Today we asked a few questions triple freeride world champion Xavier de le Rue. You´ll find out something about his video project TimeLine, about his favourite place to ride,... Enjoy this article!
Hello Xavier, the winter is over (at least in Europe), what did you do in last days?
Winter is over in the resorts but my season in Europe is not done yet. I've been back from AK a week ago, been busy with meeting with Swatch, The North Face, Rossignol. I'll have to see the other sponsors over summer as well such as Relentless, Nissan, Dakine, Recco and ABS backpack. Now I'm waiting conditions to be good to ride steeps in the Alps. It can' be done earlier than that as it needs moisture higher up for the snow to stick in high altitude.
You have behind you a winter, in which you places on third place in FWT, you regurarly contributed with Time Line videos,... How do you evaluate the winter? Did everything come out, as you imagined?
Winter has been really busy, it started in July and it's not over yet. It's been a really good winter regarding the snow conditions we did get in the Alps. On the filming side I'm very satisfied on how TimeLine came out, the response is great which is always pleasant to get as feedback. On the comp side, I've done few mistakes and I've been unlucky with a broken binding in Russia. It cost me the world title, I'm glad I could end up the season winning Xtreme verbier once again, a good end of the comp season.
Did you experience some pleasant surprise during the winter? Something came out better, than you expected...
Riding ice chute was a challenge, AK was excellent, I went with Guido and Tero as well as Mathieu Crepel. The days after we arrived were the best of the season, and nothing beats good conditions and good friends to share it with.
I've already mentioned, that you were publishing Time Line videos twice a month. How did occur to do a project like this, which is certainly really challenging?
People always asked me questions about how seasons went, TimeLine is the answer, a way to share my season when it happens, my good experiences and my bad ones and not only the action but the backstage as well. The challenge is to film for TimeLine and to compete at same time.
Are you planning for next winter some changes in Time Line? E.c. more episodes...
We are planning on keep on doing TimeLine, we'll discuss with our partners over summer on how to improve for next year.
In the last episode of Time Line you were with Jeremy Jones in Jackson Hole to shoot for his film Further. Do you shoot some other project?
Next fall I'll have my best actions in Standard Films TB20 and ViedoGrass Retrospect movie next season. We'll have a TimeLine movie coming out as well. I'm looking forward to seeing those movies.
To your race success... You have some good places in snowboard cross, you won for three times FWT and this year you ended up third. Do you still enjoy to compete, does it still fulfill you?
Filming is my priority but I like to compete as well. Depending on dates of the FWT stops next season I'll see if it's compatible to do them all. In any case I'll do some of them such as Chamonix and Verbier. Season is not over for me, it's quite hard to think of next winter already.
You travelled through a big part of world, where was the riding best, where did you experience the best feeling of riding?
Alaska is always special, when conditions are good it's usually a big adrenalin reward. Riding home in the Pyrenees in St Lary is always special too. Then I enjoy long trips with good conditions since I know I might never come back, it was the case for the Antarctica with Relentless for example.
Have you ever passed some critical situation, where you were saying, that this is going to end really bad?
I did this year, but I wasn't the one that for who things were going to go really bad but I saw Jimmy Chin, who was guiding Jeremy Jones and my self, get taken by a huge wet avalanche 1500ft down the mountain. I don't know how he survived but he did come out completely safe and sound as he was standing in the middle of a giant field of big boulders. Before I found him, I was sure that I was looking for a Dead body. It's the Worth feeling in the world, so intense that it makes you completely loose sense of reality when it happens. It's been through out all the détails of the incident a big lesson for me… One more…
I've read that the nature inspires you, but do you have some person, who inspired you in that, what you are doing?
I've been for sure inspired a lot by mountaineers, climbers, surfers… all these people that go out in the wild looking for the radest éléments. I did some amazing stuff with my ex wife, it's definitely taught me a lot.
Your entertainment for summer, among others, is MTB. How many days in year do you get to it? With your time occupancy I think you can't have much time for bike :)
I go riding MTB with my brother Paul Henri when I'm home, I climb, surf as well. Last summer was short, I'll try to have a longer break this time. All in all I probably ride about 20-30 times my MTB.
Thanks a lot for your time!