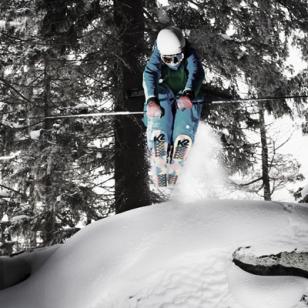 Interview with Vojta Veselý
free heel is the best
Insert: 23.01.2011
We are bringing you another interview, today we prepared interview with skier from Ore Mountains - Vojta Veselý. Vojta is successful cross-country skier. He has several success in cros-country skiing, but today he prefer another sport with free heel - telemark.
Hi Vojta, could you briefly introduce to us?
Hi, my name's Vojta Veselý, I was born a couple years ago in Ore Mountains on the Three Kings. When I was four I got classic yellow plastic skis for powder with red straps for boots and I edged the slope in front of the house. Thanks to my parents I spent all my childhood in the nature, whether cross-country skiing or orienteering.
What or who brought you to telemark? It's not completely ordinary way of skiing after all.
All my life I had free heel during my career of skier-runner. Five years ago Andrew Newell invented in America in cooperation with Fisher company freestyle cross-country skis called Jibskate for guys, who after training want to ride and not to brake the race skis. That are just devil board man. I got it and started to try boxes, rails, jumps. The year before I also tried to race with freeskiers on Klínovec, where was slope style. And during jam next day I defeated a couple of friends freeskiers including Robin Holub... :-D. A Change came when the winter wasn't very good and there was more ice than snow. You couldn't jump on cross-country skis. I got to the faculty of physical education and left cross- country skis after years. On the slope was riding my friend Tomáš "Králýk" Král as Sondre Nordheim with free heel and it was clear that I must have telemarks. The vision of sharp iron edges, stronger shoes, freeskis, seal skins, freeride was clear. After that I met in school a guy from Giant mountains Adam Brožek and he also helped me to the free heel.
I heard you had quite interesting sport achievements besides telemark. Could you show of some?
All my live was on cross-country skis and in the forest during the orienteering, over the summer kayaking or mountain biking. I made it on cross-country skis to the edge of junior representation and scored in that time national champion in relay and 6 bronz medals from MČR.
Why just cross-country skiing?
As it often is, my parents brought me to the white trail. I tried also ice-hockey, but I'd like to score all the goals on my own so I ran to the trail. Mum raced in biathlon and then trained cross-country skiing so I was almost always on the snow. I was training, losing and winning, I enjoyed that and I'd say that I was good at it, I was meeting Lukáš Bauer at concentration trainings, so I was ski runner.
Would you like to "break through" in telemark, that means to make photos, record videos and race? Or rather to ride for your own pleasure?
I don't thing that I would be filled with the stress from the races, training, etc. Anyway I enjoy telemark and it's my biggest hobby. Certainly I don't plan to ride the slope in the gates, my opinion is, that telemark belongs to nature, cope with the uphills and downhills and enjoying freedom and carve curves into a white powder. Quietness of the surrounding countryside, beautiful views, etc. But I'd enjoy type of races such as freeride tour, but why to pull down pants when the ford is still far away. I don't consider myself as a experienced and rough freerider, I'm enjoying snow in tele-kneel and that's filling me. If I had a chance sometime, I'd certainly try it.
Are you planning some trip outside the CR? Where will it be?
I'd like definitely to go this year. Last year in school we, together with Adam Brožek, visited Alpe d´Huez, where we were abnormally lucky with the weather, 5 days over night was snowing and over day was azurite. I p....d that trip a bit because the third day I sprained my angle at the afterparty of ski-cross world cup, which took place there during our trip. And I couldn't ride with that. Shit happens.
Do you observe somehow Czech-Slovakian freeriding? Who do you see as a rider with future in this our sport?
I observe what I learn from the Internet, magazines, friends, etc. I'm just shortly in this sector of white trail and I'm not meant to evaluate the happening at home, I've already met a few people and hopefully I still will.
And my opinion to that rider? I don't know, freeride is generally quite demanding for money, because you need to the big mountains for experience, so you there can't be youngsters as in freeski. The sponsors need you to be seen by people, to win races. In freeride, when you're two, maybe also with the photographer in the mountains, nobody sees you. But that's freeride, I like that and to deal who is bigger nigger in freeride isn't in my abilities and I don't want to do it either. Freeride is about feeling, not about tables with numbers.
Everyone probably has a bunch, which he likes to go to the hill with. Who do you ride with?
Here in Ore mountains is a percentage of guys, which would go over the hills by feet like by Krakonoš in the north or like by Klosterman in the south, on the other hand I'm happy because there are hardly some hills rutted. I go most with Tom Král... there's not any hills which he wouldn't know. He's Ore-mountains's patron and he knows so many secret slopes, that every trip is unique. Well and this year I have to go with a descendant of Krakonoš – Broža.
You've decided to write for powderline, who did introduce you this side or where did you hear about it?
I enjoy telemark and I believe that I could here and there write something regular about free heel. The finesse lord Dominik and Mr. head forester Adam Brožek showed me Powderline.
How do you see your future in the area of skiing? Do you have any big plans?
I'd like to ride down as many as possible hills in as many as possible countries... we'll see where will the powder lead me. This year it perfect winter so I ride on the hills which chose the forefather Czech a lot of years ago. Hopefully I will this year compare my freeride skills somewhere with a bunch of friends. I have still (hopefully) year and a half in school left and then I'd like to disappear to experience big hills full of powder, different people, etc.
And finally I have to ask. What do you enjoy most at this sport (telemark, freeriding)?
Freedom, nature, free heel, lightweight powder, purity, friendship, respect, esteem.