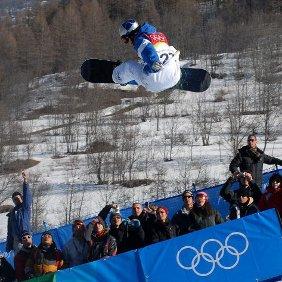 Interview with Martin Černík
Insert: 20.03.2011
After one month we are bringing you interview, which weren´t easy to make, because of time pressure of rider. But everything finished well. Today´s interview isn´t with any skiing "star", but with Czech snowboarder, who organize Snowjam, trip to Alaska and other actions – Martin Černík!
Hi Martin, beginning of March, winter full throttle, even though now it doesn't seem so. Where have you been this season?
So I started this season in the US, where I was riding with Czech repre, in Breckenridge and Keystone. Then I went in New Year to World Cup in Barcelona on Big Air, then Freeride World Tour Chamonix and St.Moritz and then I spent more time in CZ. This year it was after 15 years when I've ridden Czech Championship on ramp, also European cup on Klínovec and of course I worked at Snowjam. To be honest, this year it was kind of quiet season, I spent more time at home and on czech mountains.
And how does look your plans to the rest of the winter?
I've just come back from another freeride race in Fieberbrunnu, Austria and now I expect Master Class – teaching week, which I again hold and then I'm about spring session.
You ride on board for many years, but what have inspired you to that? You began with it when almost nobody here in CZ doesn't know, what does the snowboard mean.
That time I was riding skateboard and it couldn't be very much in the winter. No indoor parks and then I had a chance to buy a used board, so I made it. It hit me immediately and I didn't let it go.
And what did your parents say about, when you started with such an "unknown" sport? Weren't they worried about you?
They sure weren't very happy, especially at the moment when I said that I quit university and will only ride. Didn't come to my mind how it would be and of course parents were worried about me. Especially by shooting at Alaska. Then they got used to it, anyway, they knew they couldn't stop me.
In autumn 2010 you with guys presented a documentary film "Aljaška v prašanu". What was your strongest experience from this trip?
I was really happy that I thought up a project which was really realized. It rocks, but the circumstances always take me to a situation and something developes, as it was with the snowboard school DVD, Snowjam and Surf races. I take it as a challenge and I try to pull it to the end. Alaska was another idea and I'm glad that I could take guys and show them the best you can experience on snow.

Do you have also some bad memories to it? Some complicated situation, when you said "What the hell am I doing here?"
Of course it wasn't always comfortable. Man has to solve situations and not to make mistakes. Once I fell into a crack and I was lucky, that I stuck quite up. There also died my good friend Tommy Brunner, who introduced me Alaska, that was real hurt for me.

You've travelled through a lot of countries and have ridden freeride at lot of places. Are there any differences in avalanche prevention between Europe and America? Because differences between types of snow are quit a big...
I thing in the US people know better what are they going to. They won't let you go anywhere out of a without beeper, a shovel and a probe. Here in CZ most people don't care about it and then it's full of accidents when they go to Tatry...
Still by freeride. Has ever happened to you, that you were already standing above a line, that you'd chosen, but you rather didn't make it because it seemed to dangerous to you?
When you're riding you can't just quit, but once has happened that I had ride to side in the half and had to wait until a small avalanche come through, otherwise it would take me.
Another sport you do is surfing. Do you consider it as an additional sport to snowboard or it's the same like snowboard for you?
It's certainly an add, fun and something new. I surf since I ride for Quiksilver, around 12 years, always when I can and it's really cool. That's why I'm looking forward to France, we again hold CZ & SK cup in surfing -
www.surfchamp.cz
Where is you dream surfing place, where would you like to ride?
Hawai, I was there last years's spring. I flew there right from Alaska and I made luxury session on Maui in Honolula Bay. Then I was also on Kauai and Oahu, it was really great and I'd certainly to return there once.

You became a father in summer, how do you cope with your parental duty?
I really enjoy it. I can say it's the best thing I've ever come through. It's totally awesome. Only I don't want to travel so much, especially further for a long time. But I had enough of that so I don't care.

And didn't you change your stand to snowboarding because of it?
Not because of it, but generally I do it really long and it's good to get to know new things in my life. Anyway I was thinking about slowing down. I was pushing for 12 years really hard, I even don't know, how many times I've been in some places, but I know mountains all over the world really good. So it's time to be at home for a while.

Honestly... thing up a question which nobody gave to you is almost a superhuman task, so – is there some question which nobody gave to you and you'd like to answer it?
Don't know... everybody ask me for last 10 years the same things :)
Would you like to send a word at the end of you interview?
Sure big thanks to the sponsors (Red BUll, Quiksilver, LIB Technologies, Level, DC a Snickers/Nutcase), to my parents, friends, girlfriend, nature and everybody at all!
Thanks for you time!