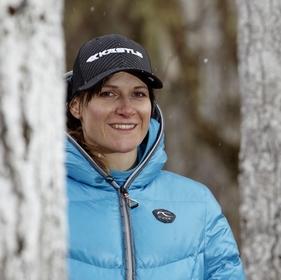 Lorraine Huber exclusively for powderline
Angle with ski devil inside
Insert: 04.11.2010
Lorraine Huber, professional freeskier and passionate surfer. Partly Austrian citizen partly at home in Australia. She is a big part of the world freeriding scene and we cannot missed her in our series of interviews. So ENJOY!
Hi Lorraine, warm-up question ... As a fan of MUSE I can't help not to ask, what's your favourite song from them?
Take a Bow
Still by the music ... You play piano and didgeridoo, wouldn't you like to make a band and be famous music star?
How did you know? No seriously, I have a massive soft spot for music, It pulls at my heart strings. I think being a musician must be one of the most fulfilling things you can do in life.
Now on the thing which interests everybody most – you and skiing. You spent big part of your childhood in Australia ... Are conditions there comparable with european (Alpine) conditions?
Absolutely not. Altitudes are much lower, the season is warmer and shorter. You can still have fun there though, especially in the park. New Zealand on the other hand has some serious freeride terrain on offer. Treble Cone near Wanaka for example is one of my most favourite places to ski.
When you went to Austria after high school, were you planning to stay there forever? (And why did you stay?)
I actually only planned to stay in Austria for 1 year before going back to Melbourne to study Architecture. Europe has so much to offer and I was really attracted to the culture and languages here, not so much the skiing initially. That came a bit later.
You jumped over imaginary evolutionary step of lots of (profi) freeskiers – ski racing. Didn't attract you to ride slalom when you were small?
I never had the chance to get into racing because I left Austria at the age of 8. My skiing world was always about off-piste skiing, which developed into freeriding at 18 onwards.
We could see you in film "WUNDERBAUM". You were skiing with Robin Kaleta and others on the hills in Beskydy, didn't seem those hills little bit small to you?
Well if you compare Beskydy to the Alps of course it's going to make it seem small and not as good. Better to make use of what is there. With a good bunch of friends you can have fun anywhere, for example working on a new trick. There's always something to challenge you if you're creative enough.
You told me, that you were suprised how many freeskiers are here. This sport isn't so popular in Austria? (why in austria isn´t this sport such popular as in czech republich?)
I'm not saying freeriding is less popular in Austria, but I was amazed at the small but tight freeski scene we met that day in Beskydy. When you think about it though it's logical that freeskiing should be popular here, it gives kids something to do and keeps you interested.
This year you're in film "AS WE ARE", which is purely girls ski movie. You (girls) didn't enjoy any more to ride with a bunch of guys so you made your own movie? Or what brought you to this idea?
It's not that we don't want to ride with guys, most of the time it's guys I ride with mainly because there are not so many girls around yet to ride with. That's why we wanted to create a movie just about girls skiing together and having fun on the mountain. Our goal is to get other girls and women motivated to try it out and also to show them that it is something you can do independently.
And can you tell us something about this film? And can you tell us something about this film? Do you think, it brings something new to freeski world?
The film is about how 6 girls, who all love to freeride, become friends by skiing together in each others' home spots. It gives you an insight about how they became the skiers they are today. It's a special story, I can't wait to see the premiere tomorrow.
You have your own freeride school in Sölden. What prompted you to establish it?
I kind of slipped into that. My partner at the time asked if I wanted to become involved with setting up the business, which I agreed to thinking it would be a great experience for me and my business studies. The Freeride Center Sölden was our baby, I loved setting up that company and it is very successful today. I tend to do that a lot: set something up, create something new, and then move on.
What do you enjoy most on this job and conversely, what least?
My career as a professional skier gives me the opportunity to not only develop my athletic abilities, but to also grow as a person. You learn how to deal with your ego, fear, disappointment, failure, success, just to name a few. What I like least is book keeping haha!
Hugo Harrison is your teammate, is he really so cool guy how does he look in the films or does he change behind camera?
Good question. I filmed with Hugo during the Warren Miller segment in Lech am Arlberg last March. I remember scouting locations with Hugo in mind, trying to find the biggest cliffs I could. I thought Hugo would do all this crazy, risk-taking stuff. The opposite was true. Hugo wont drop anything before he is satisfied with the snow conditions, steepness of the landing and being able to check the line from below first. He has nothing to prove to anyone and I learned heaps from him. That's why he has been in the game for so long, he's a ledgend.
Now comes the time for question which I end all interviews with - Is there some question, which nobody asked you in an interview and you'd like to answer it?
Nope – I'm a pretty open person and if there is something I want to say, I'll find out a way to say it.
Would you like to say something at the end of our interview?
Analyse some of your favourite athletes in ski films, play it in slow motion, imagine yourself doing the move. Then take it to the mountain, practice, and amaze yourself at the progress you will make!
Thank you for your time!!!

Author: Jakub Cada