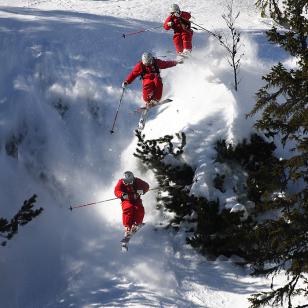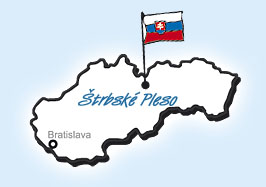 Strbske Pleso - Solisko
Freeriding in Vysoke Tatry (High Tatras / Slovakia)
Insert: 12.12.2009
I always thought that Strbske Pleso is only for a bunch of rich people and has nothing familiar with freeriding at all. I was definitely wrong. Now I am standing at the bottom parking lot without knowing how I got here. There was me, Robin Kaleta, Saba and Austrian expedition, which arrived to make some pictures with Robin.
We put into "work" clothes and went for a nice walk from the parking lot to a bottom 4 chairlift station going to Solisko. I tell you, its a nice warm-up in the morning after a good party the day before. It is at least a good half of kilometer from the lower parking lot to the lift. After some time we reached the ticket counter and recognised that it wouldn´t be so cheap resort as our a bit richer friends had said. Fortunately it was in season when I had bought Slovak rarity – skipass to the 5 large resorts, that we could visit any 15 days. Unfortunataly this rarity was sold only for 1 year and then ended. Great shame that it ended, it was a golden season when you could visit for this 1 great skipass almost all freeride resorts except Vratna, and one day cost only 300 czech cronws ...
After overcoming all the necessary difficulties and waiting in the queue line for the lift, we were finally on the way up. Chair lift goes for Slovak conditions quickly where in one point it was wobble by the wind. Which didn´t do very well for some of us. After getting off we went for a tea and some biscuits. Well, who knows Kaletovic family, knows what I am talking about, there´s no need of rush. When the sun is shining and all around there´s quite a lot of powder... Then suddenly photographer Vítek Ludvík appeared in the buffet and then I knew why those cookies.
After leaving the buffet I thought that at once we start skiing into the chutes I saw from the lift, but the opposite was true and they all began to put their skis on the backpack and went up to the top of Predne Solisko. After walking about 200 meters Robin told me to take out the camera, and that they will walk a little further and then go down.
Rob and Austrian guys hike up a little bit more, then they probably cheered up between themselves and went down. We took some pics and then followed them down. After a while I realized that those chutes were not as easy and it could not pay at the end If you ride thee same line as Robin. It does not always have to end really good and I didn´t want to hike again. So I found a nice downhill and went down. At the bottom, I noticed that the whole ridge Solisko is created by different wide and narrow culloars with different inclinations and different segmentation. Some are completely straight, some with a curves between rocks. Just everyone can find his difficulty here.
In the next ride, I and Saba and Vitek´s friend separated from the rest of the group, because we still did not want to hike up all the time but wanted ride our spots. The biggest problem here is not the steepness or difficult terrain, but the people who knows nothing about freeriding and got after some tracks, without knowing where it went. And this makes situations quite funny, but does not have to finish in funny way.
I saw a beautiful place to take a picture, told to Saba how to ride there and how to turn, and then I heard ... Krr, Krr, Krr, as if a snow ball was falling down the cullour ... but it wasn´t a ball, it was a Polish snowboarder who didn´t master the basic pattern of the edge on a board ... We saw him as he tumble and somersault about 20 times and just missed us and stopped by snowdrift where we wanted to take pictures. We shrugged shoulders, asked him if he is OK. Well, he was so we went to look for something else ...We left the culloar and went to a bigger plain. Agreed again what to do and before I could take out the camera, the same ,,Douche bag´´ appeared and rode the powder we had chosen and something yell at us ... We didn´t endure this and followed him and I don´t want to say anytig else, but now he probably knows why the skiers have advantage against snb… they have ski poles …
After a mild confrontation with a Polish fellow, we went on a ski-crosswhich was going to a chairlift. At the beginning it is quite hardcore,pretty big bumps?, brutal turns among young trees, where you get there high speed and in a while you know why, coz a long flat road coming next where we could use our ski poles in contrast of snowboarders. They had to walk ...
And now, let's describe the runs:
For Run No. 4
you have hike up about 200 to 300 m direction Predne Solisko. Chutes are quite steep, but also quite wide and it is necessary when they open to the plain quickly traverse right to get reasonably to traverse through the forest. If you don´t turn in time,it happens, that you end up in the bottom of the valley and you will have to walk back to the road, which goes down. Everything else is quite straight. Quite difficult lines, I recommend that you think over your experience and if you don´t feel, go down into easier chute and cullours instead.
Run No. 5
goes a bit lower than No. 4 and is considerably less difficult than the tun No. 4 Turning under the rocks and in the bottom part it opens to the wide plain. It ends at the place where you go on the way back.
Run No. 6
is quite narrow and difficult colloar. Even entrance is really hard. It ends at the same place as the previous one.
Run No. 7
is without hiking and goes directly from the lift. If you don´t catch powderday, they are usually passed. Some are steep, some are on the other side, wide. Search, which suits you best. Really everyone can find the best line.
Run No. 8
goes a moment on the slope and then into the larches. It's very funny, but short. It is worth it when other runs are ruined. This one is better when anywhere else is now pow. The way back is the same as the others, must be endured.
Solisko is an interesting change. Many culloars and chutes offer lines for everyone. You can choose from many difficulties form easy ones to hardcore. The way back to lift is a bit problematic, but you have to put up with that if you fant to shred the pow.
Klikoš
Attachment :
Map Strbske Pleso CZ

|
Tourist map of Str. Pleso
|