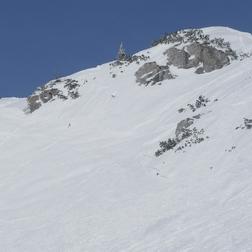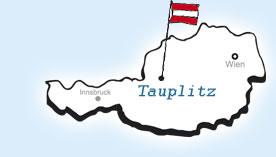 Austria - Tauplitz
part one
Insert: 20.11.2012
We just received a light
freeride guide from Pavel Božák, for whom is the Tauplitz almost like home resort

.

In the future, you can look forward to more such guides from Austrian Styria. So if you have any comments on the content please feel free to comment below the article.
This a bit smaller ski resort is located in Styria, Austria, near the salt mines Salzkammergut. The first great advantage, not only for me as I am from the South of Czech, is the availability of the resort. Journey from Ceske Budejovice takes less than 3 hours by a leisurely driving style in a medium traffic. It's always just about to reache Freistadt, roll on the motorway Linz - Voralpenkreutz - here turn direction Graz, still on the highway until you reach the exit Spital am Pyhrn. It's worth it to go off here a little earlier and take it through Pyhrnpass towards Liezen and then Tauplitz. So you do not have to pay the tunnel, behind which you would still just drove off the highway. And driving the time is also better via the Pyhrnpass.
In the direction to the South-East from Tauplitz there is a very impressive mountain massif Grimming. About 2500 above the sea. Because of this massif there is a bigger amount of snowfalls than in other locations around. Like in Schladming for example. Last year I was riding there and there was a 4 meters of snow. And this is the point, isn´t it?
As I have mentioned above there is a famous resort Schladming about 30 minutes driving from Tauplitz. This is the next advantage becouse almost all people are skiing in Schladming. So you will never end up in the queue for the lift. Well I have been to Tauzplitz many times and the longest queue was 10 minutes maximum.
When it come to altitude of the resort it is located between 580 - 2000 meters above the sea level. So this fact is saying that you can find a lot of tree riding in here. Technical riders will find a lot of fun in the trees. It is also good during the foggy conditions. Well but this does not mean that Tauplitz is without nice cliffs and snow fields. Those are also there and the location will be described below.
Overall, I can say that in many cases are the terrains at the Tauplitz available without any longer hiking. Who does not want to hike can just grab a lift. You can just ride a lift and finc some smaller faces around the public slopes. But those are very soon like a moguls race track. I have never seen such a amount of people without any fear to go out of boundaries like here. It is just everybody. But it is not that bad as it looks. If you are willing to hike at least couple of minutes will have nice private face to ride. You will meet just a few local freeriders and people who really ride a pow.
Now, I would like to describe a bit some of the freeride tracks and lines. I have to say that this is not exact description and please take it as just a reference for you riding. I cannot write how many steps I made to the location and so on. But I guess you understand me :) I hope my short guide will help a rider who has never been to Tauplitz to have an idea where to ride a good faces and that he could ride with a certain level of knowledge.
The description is according the map of lifts, please take it as a reference:
1. Line – "Warm up face"
This is wide face right under the six seat chairlift. Most of the time there is nothing to ride becasue everybody is goign there immediately after the snowfall. So there are moguls everywhere. This face is good fo BC kicker for example and you can warm up your legs before some bigger challenge. Nice thing is thst from the valley where this line leads we can get a lift and we do not have to hike at all.
2. Line – Face to a lake
This face leads from the summit of the Schneiderkogel straight down to the Grosssee. the advantage of this line is its geographical orientation. This face is oriented north east so the propability of the fresh powder is much higher than anywhere else. Also this face is steep enough and full of nature cliffs. You can hit small ones but if you will need to jump some big ones you will also find some. What you have to be careful about are the avalanches. This face is steep enough and some of the couloirs are very dangerous.