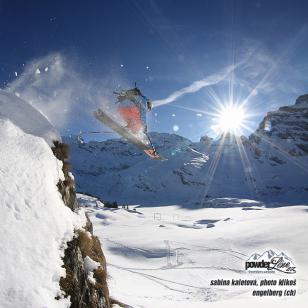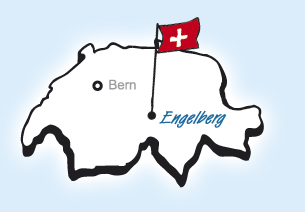 Freeride under Titlis
Engelberg - Titlis
Insert: 13.02.2010
Engelberg is a mountain town in central of Switzerland, which is known mainly by Titlis glacier. Titlis itself is right above the town and has a very unique lift which is spinning while going up. This lift is called " the Rotair " and is very impressive because you can admire all the beauty of the glacier without moving. Peak Titlis has an unique natural cave, which very famous and is visited by hundreds of tourists mainly from Japan.
I visited this resort thx to Robin Kaleta who regulary starts his every season here. Mountains around Engelberg start with high vertical wall of a mountain from the north and in its essence, each front which goes this way from the Atlantic area stops and totaly leave all the cloudiness here. This has been noticed by Nordic riders - mostly Norwegians and Swedes, who are here at the beginning of the season quite a lot.
Engelberg is not so far from major cities such as Zurich and Luzern. Both big cities are linked by rail to Engelberg and Lucerne and journey takes about an hour. This fact plays into the hands of all freerides who are either resident or studying in these cities. If dumped here it is pretty clear where to go. I came here after a big snowfall, but we missed the first day after the snowfall, the second and that's a problem coz when is a powderday nobody is on the slopes but all are suddenly in the open terrain riding everything which is accessible. There is a total rush, so if you miss the first day you got to keep avoidig foreign tracks along all the way down.
Engelberg resort itself actually looks like a "horseshoe". Gondola from paid parking lot ( all parking lot in city are paid) leads to a plateau where you jump on another lift and get through the mountain massif until you reach the gate of the resort Trübsee. It is a big station with plenty of shops and restaurant located above the glacier lake Trübsee. Lake and other area around it is flat and where most freeride lines ends. After the finish run you need to hike a little until you reach the nerest connection station which will take you to other hub stations.
On the left side of the resort there is a Titlis glacier with its peaks – Little Titlis peak - 3028 m. and the very top of Titlis - 3238 m. Accessibility of Little Titlis is good. First take a lift to station Stand and then already mentioned lift Rotair to top station Klein Titlis. Here start the first part of the runs along pretty steep glacier. The glacier here is really huge and with great superelevation fall into the valley. The best advice here is to go either with a guide or to stick on some tracks, because the glacier is much broken up and there are cracks everywhere. According to the locals, there are some fatal accidents in ski season thanks to those cracks. Some of them are 10 m deep. Although they are nice runs with great elevation but the risk is too high. Snow conditionon on the glacier is changing every minute, once you are in deep powder and suddenly turns into crust which also does not add to a security. Overall, the glacier yes, but thanks to wind and other weather conditions you should be careful coz not always what you rode previous day is the some the day after.
Also on this side there are nice freeride options. Narrow shuttes usually ending on great plains. On these shuttes you will get from the station Stand or from Laubersgrat which goes fromTrübsee station. Here everyone will find his owns line whatever it is narrow shutte or wide plain. I have to point out that at the bottom there is an protected area for a population of chamois and that is forbiden to enter. If you unfortunatelly enter to this you can get pretty huge fine from local liftops.
One of the most beautiful runs throughout the resort is also on this face of the mountain. It is a run called Laub, which has an incredible superelevation around 1200 meters. You can reach it from the station Trübsee chair lifts. This lift will take you to a height of 2450 m n.m. and then you have to overcome a spine of the mountain ridge where suddenly an huge plain appear. This runs leads to transfer station Gerschnialp. The upper part is perfectly steep where lower part is a bit flatter. To get to this station you can take a transport for 1 frank or go on you own (takes about 10min of hike). Again, there are places where protected area is such as flora and fauna. All again its about the chamois, so you need to go only thru places where is no sign of " Do not entry ". If you see those signs no worries signs will always point you out to a right way of authorized access.
The other side of the resort with saddle Jochpass and with peak Jochstock under high massif Reissend Nollen (3003 m) is the opposite side of mentioned horseshoe, which the resort is consists of. The whole side of the mountain looks like compact massif which is very spacious and articulated. Everyone will find his own line here. There are quite wide rugged plains, narrow passages and steep shuttes where on the way down you need to jump a couple of drops. I would say that there go most of freeride adventures around this resort, but due to its vastness do not go exactly describe the entire line. You must be very careful where one goes, because there are places which ends high end rock overhangs.
On the opposite side of the town Engelberg there is the second small resort. There is only 1 chair lift and 1 T-bar lift. This resort is mainly used for family skiing, walking, sledding and spot for parachutists. We tried to find something here to ride but unsuccesfully.
Engelberg was interesting, but its not kinda of extra large resort with a large selection of different terrain. If you are here longer, you just ride the same place again and again. It's not like other resorts where their lifts end in the valley and lead to various side valleys. It's basically a glacial valley with a wider selection of freeride. I recommend to visit, it is a cult spot of Swiss freeriding.
Text:Klikoš
Attachment :
Map of Engelberg ENG
|
Mapa Engelberg CZ
|
Map of pistes
|