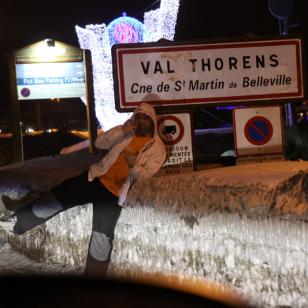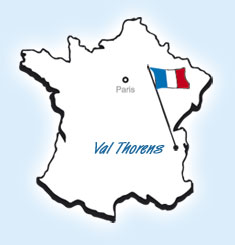 A French inspiration
A resorts in which has become my inspiration for the entire upcoming season.
Insert: 07.10.2011
Val Thorens, one of the biggest resorts in the world, has become my inspiration for the entire upcoming season. In the valley of Belleville with a lot of hotels and restaurants is a part of Les Trois Vallées (English Three valleys)

Thanks to the connection you're allowed to ski in 3 valleys with one ticket, but you can't ride through them even in a week, because there are 600 km of slopes and so it makes the world's biggest skiing resort. With it's altitude it guarantees good snow conditions at the beginning and at the end of the season as well. I came to this altitude in evening hours, when the way through that wild bends seemed to be endless, but after morning awakening the result was definitely worth it!
Thanks to an interesting coincidence I could get to Val Thorens resort a bit earlier than the rest of PL team, which helped to writing of this review. The resort is located in Savoy Alps, where's by the way also the Europe's highest mountain Mont Blanc (from italian translation "White Mountain" with it's height of 4 810 metres above sea level). You can reach the resort from many locations, either by car or by ski from other resorts or valleys. If you have the accommodation right in Val Thorens, as we did, you have no choice but drive through long seprentines to the village itself. Second possibility is to be accommodated in some other valley and get to the resort by skis. But expect that you'll spend valuable time on a cable car instead of powder. Comperomise of these options is the Orelle town, which lies very close of the A43 motorway. There's is a cable way, that gets you to one of the best resort's parts. Orelle lies in very low altitude and the cable way goes through quite big altitude, where it goes to 2350 metres. So I'd like to warn you not to try to ride from this top station to the Orelle town! As mentioned above, the down station is really low, and although the conditions tempt to it, I don't recommend it, until you want to do hiking.
Val Thorens itself is full of lifts. You ride on skis from the apartment and get of a lift right in the town. You can experience something comparable also in ParkCity, Utah. It's a huge kettle, where does a lot of connected cableways end, often starting in terminals not alone, but of three ones and which end on tops. Thanks to that they offer lost of traverses to individual downhills. Here I'd like to warn you to examine the slopes either from the cable way or by binoculars, because there's no problem to get to a downhill, which ends with breakneck rocks with big difficulty. There are real mountains around you, no gentle plains or forested peaks. Equal to that are lenghts of all lines, which you can ride. The resort can seem to be wholesale on the first sight, but this appearance is often wrong and first impressions can be a bit daunting. Anyway this resort belongs to the top and because of that the number of skiers is really huge. Therefore I'd recommend this resort to more experienced freeriders and also the resulting freeride guide is be about more challenging downhills. This downhills often hide powder, even though it hasn't been snowing recently.
The resort is really huge so we focused mainly on the Orelle part and northern side of Val Thorens, which is the next guide devoted to. We started discovering the resort first from the northern side right from the first lifts, which was about to try. Route No. 1 contains nice edge drops, where you can to seated "špons" on cableway. From this first route you can further get to freeride lines No. 2, see map. This cableway is used mainly to reach tracks na south side, because here's not too much place to freeride, due the placement of the cableway to a valley between Peclet and Pointe de Thorens. Routes No. 3 and 6 are classic tracks, where you have view over place, where you are and where you're riding. You'll have to get up earlier to most of mentioned above in case if you want to ride first lines. I recommend to check out lines No. 5 before you start them, best from the cableway. Here are really steep, exposed pasages with rocky threshold which you can't avoid or bypass. Expect o lot of rocky drops at route No. 4, so start with them only in really good snow amount.
After getting to south side you will see the best we went through here. You can reach the south side with Cime Caron and Grand Fond cableways, which can be opened later, if it was snowing last night and the avalanche situation is not optimal. Tracks here differ mostly in lenght. Routes No. 1 and 7 belong to the lower difficulty, From the Peyron calbeway you can reach downhills on left side No. 2. According to the map, this track doesn't seem very difficult, but the opposite is true. The tracks need high level of orientation in terrain and experience. It often happens here that unexperienced freeriders have to go back on foot. Tracks No. 4 has entrance from Caron, that means that, in case of doing this line again, you have to make a round over the north side of the mountain. Downhills are here sort of "Alaska spines", which aren't ridden by many riders. You definitely won't find many riders on route No. 3. It's a circular downhill around the mountain, which brings you to a fifteen minutes "hike" back to top Orelle cableway. I'll repeat myself here again and say, in no case try to ride to the down Orelle station. Routes No. 5 are located on the left of the cableway and under the cableway. Near one line in a pass is going a four-chair lift which offers perfect terrain with many options of downhill. Here are rock which are avoidable if you're not having your day. You can get to track No. 6 with help of a travers from Rosael and north Col cableways. But I recommend the first one due a longer and steeper downhill right in this place.
Visiting of this resort became a big inspiration for all of us. Resort, that is connected with many other resorts in other valleys can offer really a lot of terrain, which can't be discovered in just a few days. We can't say here like by many other resorts, that we ride the same, already known terrain still over and over. On the contrary you discover every ride new and new unknown powder places and that's why the resort gives you inspiration and becomes a place where you will want to return
Lastly we'd like to say thank you to Val Thorens resort for cooperation and accommodating that was provided to our team.