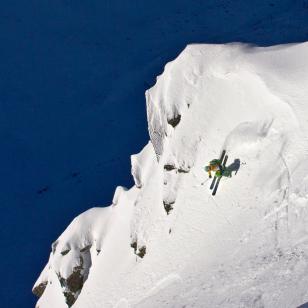 Slovensko veekend.
Insert: 27.01.2010
Because lack of snow in Czech Beskydy mountains for freeride we decided to go to Slovakia. Preliminary reports from rider Wlado were positive, so we didn't take so long time to make decision to go.
On Saturday morning we hit the road in crew I, Meza in one car and another car driven by Hungarian, John, my dad, Paul and Vence.At Vratna we arrived first, shortly after as arrived Vlado, Peťo and Boris. We took the gondola lift and went to Snilovske saddle, where we had to hike. We went to Krivan. Weather is a luxurious, below as was clouds and above bright clear sky, these weather was not often there.On Krivan we spent quite a lot of time taking pictures on drops, Meza right from the first drop felt on rock, and destroy his brand new ski brand Choc. When there's nothing to drop , and all the fresh snow is rutted, so we moved into the pub near the lift for refreshment. After short break we set off for Hromove, where we took the penultimate ride. In the trough is enough snow, but down in the woods it's weaker, we manage to go on skis to the Junosik jump , and from there we continued on foot. To the parking from there it was about thirty minute hike mostly in creek.The next day we headed into the Jasna mountains. From the Czech part of expedition remain Meza and me m the others went home. Meza arranged friends accommodation in Zilina, in the evening we were a little socially tired but we managed woke up at 7 in the morning and went to Jasna.
In Jasna Vlado and Peto was waiting for us. The weather was same as previous day, so again bright clear sky. So we went up to the Konsky Grun, there we have met with Stanka and Stano. First ride we decided to try the south side of Chopok(Freeride zone 1), it was not the ideal choice, the snow there was totally crusty like concrete . We went to the stone hut for a cabbage soup and went to try in another side Derese(Freeride zone 2). There the situation was completely different, suddenly I felt like I was on Alaska. Lot of powder was everywhere, some paces was little harder , but not so hard that you couldn't rip that out. Here we catch two rides and it was time to go back to the direction of CR, but because forecast it should dump here again, so we expect the imminent return to the location.
author: Viktor
galerry in 3limits.sk:
http://www.3limits.sk/zimna-fotogaleria/vratna-a-jasna-23.-24.2.2010