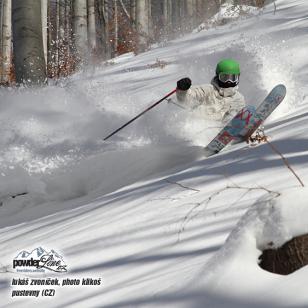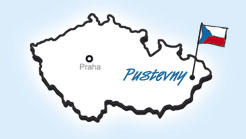 Pustevny Woodoo
aneb čtvrteční dopoledne
Insert: 06.02.2010
During Wednesday we have carefully watched how much snow is in our area where is dumping in Valachia, around the 4 pm I made clear decision - tomorrow we are going to try Pustevny. Following information from the previous weekend, when there Zelda Brothers sharpening crust, we assess that it could be better, and sometimes could be powder ...
We go by car for direction to Bečvanského valley in Czech Republic, parked with acquaintances at the top at the lift (I don't recommended you to go up here, if you do not know anyone there, otherwise there is an immediate tow).We putting on our ski boots, we take our ski and hike up to the summit Okrouhlý. First we choose a popular ride around the rear exit of the forest nursery to the chair lift bottom station. Conditions here are such that I telling to my self what I'm doing here. Pow blow up to the crust for the all time down. Buy a ticket for 3 hours and leaving at an old chairlift.
On way up, we find it out that we have chosen the worst option, because more snow is on the western side of the mountains and of the north we went. Another ride is much better, although some times we find a little crust. Anyway, in below part we find an interesting parts with powder. Followed another rides are getting better, because before you appear more deep powder places. Around 12.30 we finish up leaving back to Rožnov to work ...
Pustevny om Thursday were really relaxed, the sun was shining and it was good. Only the chairlift, is a punishment, but on the other hand, let's be glad that there is. The second group rode woods next to a T bar lift and slope "Mezák", which was pretty much on snow, so here it was good. This section was 50 cm in some places, new.
Unfortunately, on Friday came the thaw in the Rožnov sun was +8 ° C, so all the snow in the woods melted out ,and on the top was above +5 ° C. So disaster. But it should start again a little snow, so we all pray for all snow men, to something dump
Klikoš
The entire gallery from this morning is here:
http://www.powderline.cz/en/galerie/fotogalerie/pustevny-woodoo/