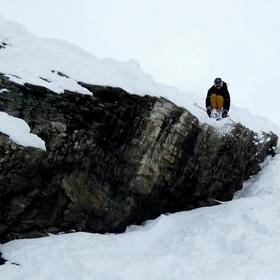 Powderline gang on Hintertux
Lets ride the pow
Insert: 13.11.2010
So the begining of the new winter season is here and part of our powderline crew headed to Hintertux glacier. Lets see our young guns killing it in Austria. Check it out!
Last October week it snowed in the Alps a lot and because it was holiday we got to a car and we set off with my brother to start a new season. The choice fell on Hintertux, where they report three feet of new snow from. It was our first visit and we were curious, what freeride opportunities does the resort offer.
We moved off on Thursday early in the morning and short while before nine we're there. We buy skipasses for two days with fact, that we will see according to the conditions if we stay longer and then hooray uphill. But there, because of the clouds, we can't see at all so we move below after a few rides. Snow is quite heavy here and there's lot of rocks under it. But it doesn't bother us too much and we enjoy first skiing after summer break. Here and there it looks like the sky is finally gettig clear, but in the end the clouds stay all day. In the evening we fuck about in the town and then already in eight we go off in our Fabia.
In the morning is weather much better, blue sky, no clouds. We wait for the first lift and go uphill. It got warmer and the temperature in 3000 m above sea level is only a few degrees below zero. We do a few rides on the ski slope and then we choose a smaller wall, where was still pow. It starts with nice threshold, where we choose a few drops from. Everewhre is a lot of cracks hidden under fresh snow so we ride carefully. Number of people increased from yesterday and some queues are starting to form by the lifts. We do last rides in local park, where I tried, because of wrong tight binding a one ski backflip and then we go down. On Monday is a national day in Austria so we expect on tomorrow's Saturday a big rush of people. More or less we have exhausted all the possibilities so we go to sleep with that we'll see in the morning if we stay or we go home.
After awakening we stare at the endless queue to the lift and we're glad that we hevn't bought skipasses. We pack and leave. Along the way we observe in the opposite direction probably 6 km long convoy of cars and we don't get it. Anyway, for those two days we managed to ski greatly and the conditions were fantastic for October. It would be great if the winter would come next time also so early.
Author: David Sedlák