Say goodbye
Insert: 13.02.2016
We would like to warmly invite for reverent farewell with victims of the Tirol avalanche. This terrible event change our lives forever.
Say goodbye event will be in village Reka CZ the end of the red slope in Saturday 20. February at 19:00.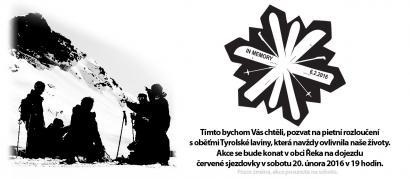 Pietní akce se bude konat v Beskydech v lyžařském středisku Řeka od 19:00 hod na dojezdu velké sjezdovky (venkovní akce). Bude připraven velký oheň, velký stan s plynovými ohříváky, pivo Koníček,párky, hudba, plátno. Spaní v autech na parkovišti na Konečné nebo někde na ubytovnách a penzionech (nutno si sami zajistit). Doporučujeme si vzít teplé oblečení, popřípadě bundu proti dešti, sklenici na pivo, kempingové židle, nějakou tu lahvinku… no prostě kdo co uzná za vhodné.
POZOR - akce posunuta na tuto sobotu 20. února 2016 !!!!!!!