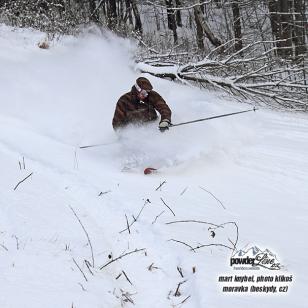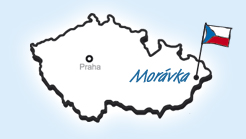 How to originaly begin the season
Back to the good 80ths
Insert: 01.12.2010
It is not so long since I called to Igor and he was trying to convice me to go to Morávka Beskydy, that he found an old ski lift at one of his friends. At that moment I wondered what it would be a rope at the cottage. This time I somehow did not pay attention, but Knybel Martin could not resist and went to go there and reported that it was not completely offended that it is "oldschool". This is all happened sometime in late summer.


On this Monday it began to snow, so in our Rožnov snowed all nothing but a hill next to our town it was much better and suddenly called Igor that got involved in the lift and it must not be missed. Just after all the hard core has its own secret test runs in Beskydy. For a while I disagreed, it's not possible that there is snow. I was told, come here is half a meter in here. With twisting my head around I came at 13.00 o´clock and with Igor and others down the slope and it was clear to me that the number 50cm of snow must be divided at least by two.
After a hike to an old rustic cottage by the ravages of time have said enough, I finally saw the whole thing work. It was an old "Svratka", built on the meadow all decent and had good length of 250-300 meters. As a model for the lift would not be ashamed any technical museum, especially in Prague would surely have pleased to have it. But as it turned out, the electric motor immediately started. For a while I researched how to turn on "svrtka" on a rope, but since I'm an experienced rider on this unit, so I managed it in just a second attempt. But what happened ... we have turned the other way around, because what I used to do in the days of his childhood on the big race slopes of my childhood, and with this device have nothing in common. Thus, as I rode up, and I air-dropped a rope from one post after another ... after the fourth post I went off, shaking my head over this technical invention.
For some time we were trying to fix the rope back and then there was further testing. And suddenly I was in and behold I ran the first pillar, second and once more, without falling rope ... Super anabasis to lift the now obsolete and let go for the freeride.
After a while I realized that the snow would have really wanted more, but I went for blueberries, which then was replaced with bushes, which I felt on my knees. After this several inconvenineces, I have carefully avoided such places. After running several times the slope, I observed that it is not entirely bad, that at least you do not drive the wood and roots as often in the middle of winter in the return.
And the overall impression – SUPER good, tell me who on Tuesday, skiing and even to using the lift, which in my mind from my childhood when I was skiing competitively in our Wlachian mountains ... just a pity that my camera battery died after a few rides. .. Well just the beginning of the season, it is still needed to fix couple of things....
Punks not dead.
Klikos