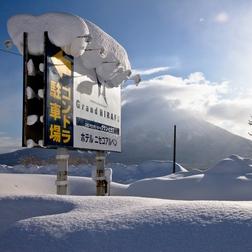 Niseko – Japan
'Powder Capital of the World'
Insert: 23.09.2014
Back in 2010, sitting on a park bench in New Zealand I was thinking of where to go next. Japan has been on my hit list since long time ago. Three years later and a couple of nights putting visa papers together I found myself in the Japanese mountain town of Niseko – considered to be Powder Capital of the World.
Niseko is a place where you have to power through 5-metre snowdrifts on your way to the grocery store. Arriving to Niseko at the start of main season, I was a bit sceptic to all that stories saying, that half the town would soon disappear beneeth the snow. What made me little concerned however was seeing the locals walking down the streets wearing gumboots that reached up to their waist. I was thus more than ready for the first dumps to come in from Siberia.
Niseko is the kind of place you instantly fall in love with as you can feel the right "freeride vibe" ever present. Most people are in Niseko for the same exact reason – the powder. The resort gets around 18m of snowfall each year. You never get to see many carvers in the slopes, however, you'll get most fans by showing up at the first gondola with big wide local skis in hand. The more your skis looks like 2 snowboards the better.
Niseko not only caters to powderlovers, but is well suited for more demanding skiers too when it comes to things to do as there are plenty of hotels and restaurants to be found. Take tons of powder, playful terrain all around Niseko, add amazing food, hot Onsens and Japanese culture and you have ski experience that is hard to rival anywhere.
"Niseko United" is divided into five resorts (Grand Hirafu, Hanazono, Niseko Village, Annupuri and Moiwa) and you may get one ski pass for first four (separate for Moiwa). If this wouldn't be enough, the ski areas of Rusutsu and Kiroro are only a short distance away. In fact, there's so much playground that even after three months of skiing every square cm of the mountain, we were still stoked when finding more and more new terrain. Not talking about the back-country options on hand. The best way to finish-up your Niseko trip is to strap your skins on, climb the Mt. Yotei volcano and experience how it's to ski inside the crater. The long and epic downhill back to the valley is among the best things you can experience on skis. Last time the volcano erupted was 1050 Before Christ so don't worry about lava.
Let me describe one day in Niseko so you can grasp what skiing in Japan is really about. We start by waking up in the morning, shovel in some breakfast, hop into our gear and sprint to the gondola only a stonethrow from our lodge. Morning rush pays off as we're at the pole position of the lift line. At 8.30 we're taking the lift, still hypnotized by velvet powder surrounding us. From the gondola we go straight to onto old school one seat chair that we call "pizza box". At the top we grab our skis and after a fifteen-minute hike we're on top of the world. I mean Annupuri. As the first part is pretty wide we're rocketing through snow making almost no turns. After a couple of minutes we disappear into the forest. The real Niseko skiing starts here. Trees, bamboos and the terrain make us feel like we're in a video game. We're flying through the forest, cheering, shouting and enjoying every second of it. We hit the half-pipe and some kickers on the way to the lift while finishing up this amazing run. Finally down by the lift line, we're highfiving everybody and don't really worry too much that everyone were total strangers two minutes ago.
Discussion whether we should do one more run lasts exactly 5 seconds and we are on the way up again. We are discovering new lines until our legs are completely burned out. This is when Niseko Rahmen (local noodle soup) sound like an excellent idea. We're trying not to get too drunk on sake and are going full force again in the afternoon. As it's still snowing we don't really have any other options than to ski as much as we possibly can for the day. When the sun is setting we put some serious head lamps and go for night-skiing. Night powder skiing in the forest is just as good as it can get and we're trying hard not to kill ourselves. Alright, it's 8 o'clock, that's it for today. When we think this day can't possibly get any better we head to Seicomart (local 7Eleven) to get a couple of Sapporo beers and go for some outdoor onsen – public baths with hot volcanic water. Snow surrounds us as we're chilling in the water, cold beer in hand while talking about what we've just experienced.
I'm not J.K. Rowling and can't do justice to what I experienced during my three months in Japan, however, I can invite you to join our Freeride Powder Camps in Niseko to see and exprience for yourself. We run the camps in January and February 2015. For more information check out www.sherpasride.com or just send me an email at vojta@sherpasride.com and ask me anything about skiing in Japan.
Vojta Lím
Vojta Lím is an outdoor guide and instructor who runs Freeride Powder Camps in Niseko, Japan. Check out his blog and get some more information about skiing in Japan at
ww.sherpasride.com
.