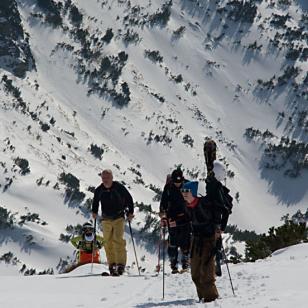 When journey is the aim.
Ziarska Valley
Insert: 31.03.2011
The two-day trip to Slovakia is always hectic, mainly at the beginning where we all have to pack up and set out. And of course it was no differently in this case. On Friday at 11pm I was arranging that all the seats in the van are occupied. Well, there still was a one room for one person so what I did was to fill this place. The potential person was of course Igor "the bear".
I woke up at 3.45am and waited for my brother who should have picked me up at 4:15am in front of my flat. Ehm, after 5min of waiting I picked up the phone and call him, finding out that he is still sleeping. I had to use all my generosity, humility and tolerance to calm down at this moment. After he finally arrived we went to Wiktor's place, who as always arranged transportation directly from his home. We all jumped into the van a headed to wake up Slava. Wiktor did not have as much tolerance as I had and yell at Slava quite loudly. Anyway we finally set out at about 6.40 pm in a crew composition of me, Wiktor, David, Igor, Slava, Buko, Bilo and Thomas. At Liptovsky Mikulas, SK we met up with another Pal and Lucky group. Bought last food and headed to direction of ZIARSKA Valley. At the parking lot the oldest member who was Igor arranged a free parking by saying that we are from production to shoot a freeski video at ZIARSKA valley. At the gate we tried to go around it but unfortunately we were not able to make so we had to go on food all those 5km to the cottage.

The five kilometers were for me a huge suffering. According to the plan we supposed to sleep outside so I took all the equipment. My backpack is only 15 L so I had to repack several times before I reached the fist destination. With a smaller pause at the cottage we continued to the saddle. Put on skins and went in direction called "3 Kopy". The way up seemed to be endless. The wind has increased its power and was quite late afternoon. Last meters were with the effort of all forces. The subsequent run was on a summer firm, which was twitching your skis all the time. In the evening, due to high wind we moved back to ZIARSKA, where in a powerful gang control the whole building. After a few beers Wiktor suggested going to Liptak, where is the atmosphere much better. In the first group who decided to go were Bilo, Thomas and Wiktor. After 30 minute Wiktor returned, because of serious crash on skies in the first kilometer. His whole face was covered in blood but luckily nothing serious.
The next day we hiked up again towards to Baranec where we rode smaller collars. At the end of the day we built a kicker where we threw couple tricks as a recession.Lastly on the way to "Kalameny" a thermal spring Bilo while reversing went to a road gully but luckily nothing has happened.
Martin Knybel
nice photos from the trip :
http://www.powderline.cz/en/galerie/fotogalerie/kdyz-cesta-je-cil-slovenske-tatry/